The Awakening
It was the prime of spring, and through the sunny
meadows a flower girl was walking by,
the starlings sang, the bees all gathered honey,
and from afar she heard the heron's cry.
She rested at the bottom of a willow
and listened to the blackbird's lullabies;
she fell asleep upon her grassy pillow,
her flower baskets heaving with her sighs.
She found the garden and she smelt its sweetness
and touched the tree and tasted fruits of life
and saw her nakedness, the world's completeness,
and watched goat-footed gods who played the fife.
The fountain swelled, the river's banks were flooded,
a gentle breeze across the forest blew,
the roses in her flower baskets budded,
the orchid's petals gleamed with morning dew.
She oped her eyes and yearned and baulked and pondered -
as dreams turned into semi-certain things
of scary beauty to the heart, she wondered,
'How sweet, how bitter are awakenings!'
---
My Lord
Love is a savage master
who'll take it all without
consideration, faster
than you can raise a doubt.
One glance and he'll expect you
to serve on bended knee,
one fling and he'll neglect you
but never set you free.
---
Cupid
I have never shot an arrow,
flying on white-feathered wings;
no, I reach the spine and marrow
with much softer, deadlier stings.
I am but an unseen spirit,
and I enter through the eye,
creep into the heart and stir it
with Desire's battle cry.
And I always get a fervent
welcome in the heart of man:
he's my host and faithful servant,
asking me to call again.
After greeting me, Love's giver,
soon the heart of woman scorns
every blessing I deliver,
and I have to sleep on thorns.
Through her heart's grey halls I falter,
rat and cockroach cross my way,
while upon my holy altar
unburned offerings decay.
Soon I flee the woman's vices;
to the heart of man I turn,
where the fragrant sacrifices
on my altar always burn.
---
The Witch of Clonakilty
The Witch of Clonakilty
approached my cradle when
I thought of Love and Beauty
and how it all began.
She stooped down o'er my pillow
to see me smile and wince;
her pale white breasts have nourished
my spirit ever since.
Her icy eyes of azure
have pierced my fearful mind,
her long wild shocks of ginger
and my blond curls entwined.
Her freckle-dappled cleavage
appears to me at night,
but when my eyes are open,
the witch is out of sight.
She haunts me, though she never
comes back, and with a pen,
my magic wand, I'm calling
her image once again.
---
The Young Man with the Grey Hair
At the Rose Garden no one can enter
without being torn by the thorns
we admired its flow'rs from the distance
in the light of the morning of morns.
From the path which we thought was deserted
a young man with grey hair we saw come.
He walked slowly, his eyes were cast downwards:
we had never beheld one so glum.
'He is Life,' one was breaking the silence,
'and he suffers because from his hand
everybody receives joy and pleasure,
but he knows it must come to an end.'
'He is Angst,' said another. 'The burdens
of mankind, every pain, every fear,
he must carry, and yet he is conscious
that he will not make one disappear.'
'He is Hate,' claimed the third. 'Though he's calm now,
though he still is enduring the stench
of injustice that others committed,
he will soon start to think of revenge.'
They turned round and awaited my judgement;
I was thoughtfully shaking my head,
and the tears in my eyes gave the answer,
'Only Love could be ever that sad.'
---
Carina
The first time that I saw her
she wasn't anywhere
with eyes full of young vigour
and daisies in her hair;
minueting to the music
of Dionysian flutes,
she only wore a garland
and knee-high leather boots.
She dances to the carols
of nightingale and lark,
she dances in the sunlight,
she dances in the dark;
light as the dandelion's
slow-drifting parachutes,
she only wears a garland
and knee-high leather boots.
And when she walks the pastures
where crows and cattle feed,
embraces rain and thunder
or sleeps amidst the reed,
and when she lifts the chalice
or tastes of mellow fruits,
she only wears a garland
and knee-high leather boots.
The last time that I'll see her
she won't be anywhere
with eyes full of young vigour
and daisies in her hair;
with her I shall be leaving,
returning to my roots:
she'll only wear a garland
and knee-high leather boots.
---
The Girl with the Purple Hair
When they told me the girl was a tree witch
I ran off to the forest and shinned
up a birch for a glance at her cleavage
and her purple hair in the wind.
Like the dewdrops adorning the heather
in the morning when all things remain,
I enjoy the most turbulent weather
with her purple hair in the rain.
How I long for a happy tomorrow
and the peace I can never find
with the weight of this planet's sorrow
and her purple hair on my mind.
---
City Lights
Reflecting every city light,
the rain-soaked streets glow in the dark;
the river dances in the night.
An unsuspecting swan takes flight,
disturbed by an approaching barque,
reflecting every city light.
The flashing neon signs invite
the restless in to leave their mark.
The river dances in the night.
She speaks, and her clear eyes shine bright
with an invigorating spark,
reflecting every city light.
And as we slowly stroll where white
dim lamps illuminate the park,
the river dances in the night.
And yet she will not hear my plight,
and to my pleas she will not hark.
Reflecting every city light,
the river dances in the night.
---
No Grave that Wide
No grave is that wide and
no wall is that high,
when two find each other,
all odds they'll defy.
No weather that ghastly,
no night that complete,
when two seek each other,
each other they'll meet.
There may be some moonlight,
there may be a star,
there may be a lantern
that shines from afar.
There will be a ladder
or bridge on that day;
when two love each other,
fret not 'bout the way.
(Translation of Klaus Groth's Keen Graff is so breet)
---
Ave Maria
A lass is every temple's sootress
and feeds all masterpieces' roots,
like this flamingoesque sixfootress
in mini skirt and leather boots.
Her form is lithe just like a willow,
Her hair as silky as a fawn:
I want to see them on my pillow
at twilight and at break of dawn.
She makes Her subjects feel like midgets;
a beech amongst the rampant grass
She watches, and with gracile digits
She gingerly holds up Her glass.
As I look up, Her china shoulders
nobly surmount Her svelte physique;
this bracing nymph keeps Her beholders
enthralled by Cynthian mystique.
As She looks down on Her dominions,
She wafts Her scapulas with ease,
portentously like copper pinions
of loitering Stymphalides.
Her movements are of most exciting
slightness; an aspen to my taste,
She sways Her back and those inviting
firm nates beneath Her lofty waist.
Infinite legs that cause the leaven
of wits sealed many early fates:
white birches with their tops in heaven,
grand columns at the pearly gates.
To sing is my eternal duty,
to want Her is my arrogance -
I'm captured by Her vernal beauty
and Her mischievous innocence.
She is the oracle's connection,
for beauty, as we know, is truth;
over Her juvenile perfection
I quicken my azoic youth.
And as I stare at this beguiling
enchantress with the marble hips,
She looks at me, and She is smiling
with amber eyes and scarlet lips.
Her velvet voice is mere temptation,
She says Hello, She says Goodbye;
pray tell if this is admiration
or mockery that's in Her eye.
I quiver as Her pupil glisters;
in pining songs I still recall
I've praised so many of Her sisters,
but She's the Lady of Them All.
My lyre sounds as if strung by fairies,
and Pegasus on satin wings
takes me away from Her and carries
me to Her image at the springs.
Since satyrs on the fife are playing,
since Aphrodite's maiden splash,
Himeros' votary was praying
to see the Goddess in Her flesh.
And here She stands, Her arms akimbo,
in splendour too divine to tell -
to watch Her artless grace is Limbo,
not to make love to Her is Hell.
For countless aeons I awaited
the coming of a deity -
now this Olympian caryatid
descended to unsettle me.
If I could read your mind - or write it,
if I could make my feelings heard,
if I could calm my urge or fight it -
if you would only say the word!
I'd bring you where the night discloses
the starlit welkin for a few,
I'd lay you in a bed of roses
and lap the trembling petals' dew.
I should walk over and beseech you
to dance with me, but I'm too weak:
I wish I had a hand to reach you,
I wish I had a mouth to speak!
My brains stand still, my heart beats faster,
and something tells me that I must
explore your skin of alabaster
and fill you with bohemian lust.
You dance in front of me, pretending
you're unaware of what you do
to me, that you've no understanding:
my mind and soul devolve on you!
Don't heed the other dance floor creatures,
their skinny legs, their wobbly chests;
just turn around and press my features
with force against your planar breasts.
Then kiss me with the kiss of fashion
and let our lips and bodies burn,
and open your abyss of passion
to one who never will return.
I gawp at Her, a sensual gaby
who fears and seeks Her magic spell,
but She can't read my thoughts - or maybe
She can, and reads them far too well.
---
Invitation
You six foot something from the Hazel People,
you Queen of Amazons, I want no more
than to investigate and to explore
your temple from the altar to the steeple.
Bewitch me, serve me, honour and adore me,
for in the flicker of the candlelight
there's something that could save my life tonight:
two yards of female flesh spread out before me!
We know not where we go, we know not whether
we'll reach our destinies; I only know
that you won't stay with me, but let us go
these seven inches of the way together.
---
Bay Watch
Their breasts are white, their necks are long,
they're noble and they're free,
so dark and serious their eyes
that keep their mystery.
As nude as God created them
they swim the Sligo Bay,
but there's a swan most beautiful
I'll never see that way.
---
Relapse
Will I see her, will I see her?
No, it's not that I still care,
but as I am back I wonder:
would she still be living there?
You won t see her, you won't see her -
Sligo's bigger than before.
Even if you though should meet her,
it won't hurt you any more.
I have seen her, I have seen her,
tall and graceful, dressed in grey,
but the lovely Queen of Beauty
saw me not and walked away.
---
Femme Fatale
Tigress, tigress of the dance floor,
through the jungle of your mane
shines your fatal spotless beauty
like a messenger of Death.
Tigress, tigress of the dance floor,
and your fiery eyes of gloom
sparkle through the crowd like comets:
you can kill without a touch.
Tigress, tigress of the dance floor,
and the glamour of your teeth
dazzles every man; the victim
wants to feel them in his flesh.
Tigress, tigress of the dance floor,
and so slender are your hands,
lethal are the nails they carry,
though they'll never cut my skin.
Tigress, tigress of the dance floor,
to the rhythm of the beat
bends your tall and graceful body,
getting ready for the pounce.
Tigress, tigress of the dance floor,
and your leather mini skirt
covers little of the glory
feline human thighs can have.
Tigress, tigress of the dance floor,
perfect lady, perfect beast,
it's your only imperfection
that I'll never be your prey.
---
The Wild Rose of Sligo
With many girls I've been,
and I have done my stuff,
but I have never seen
so wild a bit of fluff.
This is the love I seek,
this is the love I'll find:
your lipstick on my cheek,
your frontpiece on my mind.
Together we will join
the force of Eros' spells:
your frontpiece on my groin,
your lipstick somewhere else.
---
The Musician
Her lips around the mouthpiece,
her fingers on the flute,
her salient breasts dilating,
she's lush beyond compute.
Her eyes of sapphire smiling
at me, her golden hair
framing her shapely shoulders,
she bathes in my stare.
The music briskly carries
her sensual attribute,
her lips around the mouthpiece,
her fingers on the flute.
---
Dancing with Tamara
Somebody grabs you by the hand.
She's whirling around, and her sunset hair
looks like leaves of the rose when in autumn they fall,
providing your heart with fulfilling despair
and a conscious desire, and you think you recall:
you've seen her as a Celtic queen,
as a goddess with staff and tiara,
and hold on tight to what you've seen;
you're dancing with Tamara.
Her beauteous freckles on your mind,
her shapely body which denies
the imperfections of mankind,
the knowing smile in her vibrant blue eyes,
her vibrant blue eyes so intense and so bright,
underlined by her subtle mascara,
you'll never take one step aright;
you're dancing with Tamara.
Her luring perfume in your nose,
her breast on your shoulder, your hand on her waist,
you step - and step right on her toes,
and feel as utterly misplaced
as a hippo in a filly pen,
still you feel like the High King of Tara
and never want to leave again;
you're dancing with Tamara.
---
Things She Could Do
She speaks. To watch her standing there
as temptingly her pint she sips
and looks at me, it drives me insane
to think of the things she could do with those lips.
She smokes. To watch the flame she holds
as she lights the cigarettes of her friends
and looks at me, it drives me insane
to think of the things she could do with those hands.
She walks. To watch those splendid legs
that from her well-shaped mounds arise -
she looks at me, it drives me insane
to think of the things she could do with those thighs.
She smiles. To watch her vibrant eyes,
her body, each and every part;
she talks to me, it drives me insane
to think of the things she could do to this heart.
---
Your Age Shows in Beauty
Your age shows in Beauty: your raven hair,
your lissome body, your genuine smile,
your mature magnificence and grace,
your mystical eyes, your view of the world
have filled me with passion.
You don't look a day under forty, and still
the liveliness of your aquiline features,
your joy on the dance floor, your raunchy voice
and the way you whirl your husband around
spin all my heart to the very core.
---
Kadambari
She is the lady of my thoughts.
In all this planet's towns and ports
there is no woman I could find
so captivating heart and mind.
Her hair is blacker than the crows
Chowpatty lodges, and it flows
with mystically enchanting grace
around the world's most comely face.
Her eyes are darker than the night,
and yet their sparkle is so bright
that all the rocks she looks upon
turn into temples of the sun.
Her touch is softer than the kiss
of butterflies in vernal bliss
who rest upon your arm and then
playfully fly away again.
Her smile and presence give me wings.
If I knew girls at all the kings',
sultans' and maharajahs' courts,
she'd be the lady of my thoughts!
---
Dreamboat
Dreamboat, don't sail by,
for the night is nigh,
and the ocean is rough when the storm clouds have spoken,
your prow will be smashed, your tall masts will be broken -
Dreamboat, don't sail by.
Dreamboat, don't sail by,
see the clouded sky;
here's a harbour to anchor, a galley to capture,
a soul to destroy at your pleasure and rapture,
Dreamboat, don't sail by.
---
Sub Rosa
He silently watches her boarding the train
with all of the others, with whom she'll remain
throughout the whole journey they're ready to start,
the haute école rider who burns up his heart,
who's vainly amused at the way he must feel
whose laughter is fake but whose tears are real.
The pitiful clown, the director's young wife:
the queen and the pauper of circus life -
she deems him unworthy of shaking her hand.
He goes with the animals - they understand
his woes and vexations on which he'd discourse:
he sits on a box, and he talks to her horse.
A gentle voice answers – he pricks up his ears,
and out of the shadows the rider appears;
she leans on her horse as the siren-in-chief
and tenderly smiles as she shares in his grief.
Her words of compassion seem kind and sincere
and mellow his heart to a meadow of cheer.
She lowers her voice so they cannot be heard.
There's no need to tell him to breathe not a word;
the others would laugh, and the girl would deny
there ever was more than her passing him by.
She looks in his eyes and she sees that he knows:
their grand conversation is under the rose.
              - 
He sits in the silence his goddess has left;
the morrow will see him of friendship bereft
when she will not grant him as much as a glance.
But still he will cherish – forever, perchance -
this moment of joy he can never disclose:
this grand conversation was under the rose.
Inspired by the Jack B. Yeats painting
This Grand Conversation was under the Rose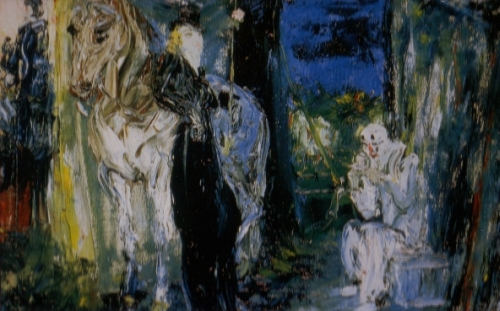 ---
The Astrophysicist's Proposal
Since I have entered your event horizon
I'm out of orbit, and it is implied
no force will bring me back, thus I shall never
again be seen by anyone outside.
So strongly drawn to you, it's clear our forceful
negative radial velocity
has caused a shift I can't reverse and messes
with my accustomed radian frequency.
Now that there's no way out at all, not even
the speed of light, I have to let you know
my deepest feelings and how much you matter,
so take me in and never let me go.
---
The Purpose of Night
When God created big and small,
the sun was shining without cease,
and so man had to struggle all
God-given hours their Lord to please.
The Prince of Darkness in sublime
foresight brought Night to man; that's how
they suddenly had lots of time
for pleasures God did not allow.
God, as a man opposed to fun,
counterspelled it, his laws to keep:
after they had their day's work done,
he let his creatures fall asleep.
But his commandments are not ours,
enforcing them he has no right,
and still we steal some happy hours
before we go to sleep at night.
---
Tinkey Lullaby
Tinkey tinkey, have a drinkey:
every drink from me is free
if you're coming home with me.
Tinkey tinkey, buy a minkey:
you may wear it for a bit
till I peel you out of it.
Tinkey tinkey, if you thinkey
that we're doing what we ought,
you think more than I'd have thought.
Tinkey tinkey, sleep a winkey;
when you're back from Lethe's shore,
you won't know me any more.
---
The Promise of May
The spring has arrived, and the winter has passed:
the first of the month will not be as the last.
Will I meet a goddess? And then, will she stay?
My heart and desire seek the promise of May.
The girls show their legs now, the summer's in reach,
the children and parents play ball at the beach,
the tryst of the heaven and sea paints the day,
the sunshine is sealing the promise of May.
I walk at the ocean, I walk through the town,
I walk over hills, see the sun going down,
and that's what I'm asking to follow my way:
a lady to keep the sweet promise of May!
---
Moon Galley
Let's sail to the Moon after midnight
when the tide of the spirits is low,
for tonight is We're-lifting-the-lid night
in the valley of Where-I-will-go.
Let's sail to the Moon in my galley
made of wood gained from breathing your skin
as she smiles on the hills and the valley
of the bountiful country I'm in.
Let's sail to the Moon with the lyre
that won't play on the Occident's ships,
with the chill of the song of desire
as the veil separating our lips.
Let's sail to the Moon, let us nestle
in the nook we abandoned too soon,
let's lie down in the stern of my vessel
as we dance to the pulse of the Moon.
---
Night Watch
When all is done that could be done,
and my beloved one is gone
from here into the land of dreams,
where she might meet me at its streams
I gently would remove the cover
and watch the body of my lover;
again I'd see her beauties smile
which have been mine a little while
and might be mine again if she
will stay another day with me.
And while my thirsty eyes are drinking
her peerless beauty, I'd be thinking:
Why is it men can only say
that their beloved one will stay
as long as she's in slumber deep? -
And after hours I'd fall asleep,
my arms around her, till the morrow
brings ceaseless joy or passing sorrow.
---
Morning Song
The night will leave this resting country soon,
the lark already sings her morning song,
the early fishing boats now sail along,
behind the ocean hides the lily moon.
And Eos gently spreads her crimson light
and wakes the spirit of a sleeping land,
and longingly I touch the soft white sand
where your beloved body lay this night.
---
Divine Love
Tonight is the night I shall worship my goddess:
to you I will pray and submit with delight,
for I am a god - could I love but a goddess?
And therefore you must be a goddess tonight.
No offering sweeter, no sacrifice gayer
than giving oneself to the god of one's choice,
for Love is but worship and Love is but prayer,
and Love is the reason to pine and rejoice.
I stroll through the forecourt, approaching the centre,
and I'll be the sacrifice you cannot spurn.
So open your temple: your servant will enter,
that now on your altar my off'ring may burn.
The world as I know it will cease with your blessing,
a new world will follow this total eclipse -
the moon and the sun in your heaven caressing,
I'll kneel at your feet and I'll kiss your sweet lips.
We shall not delay pleasing moments to borrow
whenever a deity crosses our way;
we both do not know whom we'll worship tomorrow,
but gladly we'll worship each other today.
---
Infatuation
Your boyfriend or your spouse I'll never be,
I wouldn't even try,
but if you shouldn't spend the night with me,
I'll surely have to die.
---
Freelove and Goodbye
Farewell! We met, united, and we parted
within one night, and we might meet again -
or we might not, yet no one's broken-hearted:
the world is full of lovely girls and men.
For this one night our love was deep and fervent:
I worshipped, and you answered with a nod;
how could a comely goddess have one servant,
how could a gifted servant have one god?
---
Lady of the Wild Things

My Lady of the Wild Things, save
this soul, freeborn,
from being torn
by someone else, and show
your willing slave
until the grave
the things you want to know.

You say you never felt like this!
With joy and pain
you stir my brain
like nothing I recall -
you'll never miss
to feel like this:
you never feel at all.

You want our hearts to be as one!
Your beauty's dart
has lit my heart,
a bonfire that endures;
as you have none,
our hearts are one,
and mine is wholly yours.

You tell me that you need my love,
that you're afraid
I'd leave you, maid,
but do the eagles fear
the gentle dove?
You need my love
like lions need the deer!

You say you'll stay for evermore!
The moon shines bright,
let's love tonight
until the early morn:
in woman's lore
for evermore
sometimes includes the dawn.

White Goddess, hoarsely you declare
that I'm your Pan,
the perfect man
and lover who explores
the flesh we share;
a perfect pair,
until you starve for bores.

You ask me now to set you free!
You leave a hell,
a dried-up well;
you need the life you drew,
the energy
you drank from me,
to prey on someone new.
---
Woman's Decency
A woman's decency is like her underwear:
as long as we don't see it, we hope that it's not there.
---
The Love of Gods
We're captured in each other's spell
and worship in the sun:
you're priestess, goddess just as well,
I'm priest and god in one.
Our altar's made of flesh, not stone,
our offring's yours and mine:
in love, and but in love alone
the human is divine!
---
Directions
This fading rose might flower as you do - yours is the choice,
this cloudy sky might soon again turn blue - yours is the choice,
the moon and sun might shine for you and me just as before
to dry the meadow or to spread the dew - yours is the choice,
this butterflied devotion to the belles, earnest and brief,
this restless heart might faithful be and true - yours is the choice.
So now I'm waiting in the hall between Heaven and Hell
to live or die for you - yours is the choice.
---
The Magic Garland
She wants a garland, and she'll give her heart!
She said it would unite us, and she guesses
that nothing in the world could make us part.
Her rose lips shall be mine, her golden tresses,
her body's blooming realms, her eyes so bright,
for this one thing no other girl possesses:
She wants the sparrow's song, the full moon's light,
the ocean's salty smell entwined together,
the wind's soft touch, the gentle taste of night!
That evening I went out into the heather.
The sparrow sang; I kept some merry tunes,
before he flew away and dropped a feather.
Soon it grew dark, and from the marble moon's
pale light I picked some rays with tender motion,
while I approached the sea across the dunes.
Peacefully dreaming lay the sleeping ocean,
and I breathed in the air of salt; a few
waves stirred, acknowledging my fond devotion.
Then I went home. The south wind softly blew
and touched my cheek; I paused and took a cantle,
as fresh and chilly as the morning dew.
The sultry summer night now spread her mantle,
and full of stars and magic were her skies
while I enjoyed her taste, so warm and gentle.
Back home I took those treasures and some ties
to bind them with red roses I collected,
restlessly waiting for the sun to rise.
I brought the garland, but I was rejected.
She answered, as she saw this work of art:
It's nice, but it is not what I expected.
She kept the garland, and she kept her heart.
---
The Face of Love
When Love came to my doorstep
to brighten up my days,
she let me have her body,
but did not show her face.
She was a ginger fairy,
a hazel Amazon,
she was a tall blonde goddess
who soon again was gone.
The raven-haired enchantress
became a nymphet fair:
her shape was ever changing,
her body and her hair.
But still she hid her beauty
behind a mask of stone;
I longed to see the features
no man has ever known.
'Oh let me see your face, Love,
that's all I dare to ask!' -
I gently stripped it off her
to find another mask.
She told me not to do this,
as I would hate the sight,
but I kept on removing
her masks all through the night.
'Oh let me see your face, Love,
that's all I dare to ask! ' -
I'd gently strip it off her
to find another mask.
As I took off the last one,
she turned away from me
before I looked behind it
and told me earnestly,
'For you it would be fatal
to see what you have done:
I have a thousand bodies,
but faces I have none.'
---
Facial Colours
Black as the night, your raven hair
frames with a feathery embrace
your delicate magnolia face;
I've never seen a nymph that fair!
Your eyes are blue as is the sea
on spring's most calm and tranquil day,
and I admire their sheen as they
devotedly look up at me.
Your lips that often whispered love
glow redder than the sunset glows
and, opened like the crimson rose,
await the blessings from above.
I stand in front of you and treat
myself to this resplendent sight;
just let me add a bit of white
to make its pulchritude complete!
---
Black Lover
I curl with my fingers thy shiny black hair
while thy skilful fingers are curling my fate,
thus filling my heart with love's joy and despair:
oh leave me, oh leave me, before it's too late!
My lips are exploring thy glossy black skin
while thy lips the pleasure thou feelst indicate.
Thou knowest thy victory, I cannot win:
oh leave me, oh leave me, before it's too late!
My mind I see mirrored in thy dark black eyes
and all the great thoughts that they proudly create,
I see the reflections so tender and wise:
oh leave me, oh leave me, before it's too late!
With me on thy back thou spreadst now thy black wings,
so I lose the knowledge of love and of hate,
and while I am dying my soul gladly sings:
I'm leaving, I'm leaving, I know it's too late!
---
The Night of Nights
Tonight's the night, beloved one!
The full moon shines upon your charms,
I hold you tightly in my arms,
and soon we both will be as one!
Your breast and lips are touching mine,
and in Selene's mellow light
our hearts and bodies will unite,
and I'll be yours and you'll be mine.
Once Death was knocking at my door.
So sinister he looked and grim;
he wanted me to go with him
as he was waiting by the door.
I said that I'd refuse to die,
for Love was but a stranger still;
therefore I've never had my fill,
and those who never lived can't die.
He left the house alone that night
but said that he would come back soon.
So pale and quiet is the moon;
beloved one, tonight's the night!
---
Lost Hearts
From the corner in the lounge
I watched trains arrive, depart;
when I left I realised
that in there I'd lost my heart.
Later I went back to see
if I'd find it in the nook,
hoping that she might have lost
hers as well and come to look.
---
Adonis' Day
On Adonis' Day, on the tenth of July,
all passionate men and women comply
with the wishes they read in their lover's mind,
for this is how passionate love is designed.
On Valentine's Day their love they display,
but they show their desire on Adonis' Day
when lovers, according to Eros' will,
the secret desires of their partners fulfil.
---
Impression d'Orient
Wedged between palms, the temples are
pressed by their deity
who's due again to reinforce
his rule and tyranny.
The votary kneels on the ground,
her eyes are opened wide;
she moves her lips in worship till
her god will come inside.
---
Inquiry
My lover says her love is pure
and honest, but the cold allure
of distant passion makes me shiver,
and while my passion I deliver
to her, I wonder what to do;
I'll ask the mountain and the river,
I'll ask the sky if she is true.
Oh mountain, tell me honestly
if my true love is true to me!
If all the flowers of the spring
provide your vernal dress,
and all your birds rejoice and sing,
I'll take it as a yes.
But if destruction takes their place,
and raging storms that blow
remove you from this planet's face,
I'll take it as a no.
Oh river, tell me honestly
if my true love is true to me!
If moss grows on your bridge's planks,
and if your waters bless
the fragile daisies on your banks,
I'll take it as a yes.
But if your streams refuse to fill
the sea and cease to flow,
or if your current's standing still,
I'll take it as a no.
Oh sky, please tell me honestly
if my true love is true to me!
If Helos' horses gladly run,
and velvet clouds caress
the world beneath a smiling sun,
I'll take it as a yes.
But if you show my lover's worth
to me by falling low
and tumbling down upon the earth,
I'll take it as a no.
---
Vicious Circle
We fall in love, we suffer and regret:
this infinite disease of man
drains all our life and energy, and yet
the only cure is Love Again.
---
Wagtails
A wagtail sat upon a stone
along the river bank and sang;
though ignorant, I'm sure he chose
the sweetest bird parole and langue.
Before too long, a wagtail girl
perched on a stone not far away,
and as he serenaded her,
she chirped to let him know she'd stay.
Another wagtail came along,
swooped down beside her, and without
stopping ascended to the skies:
of his success there was no doubt.
Without a thought she followed him
into the air, as if she'd known
him from the days when they were eggs,
and left the singer on his own.
He kept on singing to himself,
as if he'd done that all along.
I left him sitting on his stone –
it's far too well I know that song.
---
Those Who Love
To stop the heart from beating,
to quench the heron's cry,
the chorus is repeating
that those who love must die.
The stream must meet the ocean,
the earth must face the sky,
the stars must stay in motion,
and those who love must die.
Who teaches must be learning,
who will succeed must try,
who kindles must be burning,
and I who love must die.
---
Love Rhymes
Wooing with the voice of pigeons,
cooing like the turtledove,
we all desperately seek
new rhymes for love, new rhymes for love.
We can't count Arabia's flowers,
we can't count the stars above,
but we certainly can count
the rhymes for love, the rhymes for love.
We can colour clothes and body,
decorate a simple glove,
but not grace our poems with
new rhymes for love, new rhymes for love.
There are many words and phrases
we can trim and bend and shove,
but we never will create
new rhymes for love, new rhymes for love.
---
Warning
'Cross my heart,' you say and smile
as you're walking out the door;
I'm an entry in your file,
nothing less and nothing more.
Girl, you better mean those things
that you say to me right now;
if you don't and spread your wings,
you'll be sorry for your vow.
Let me down, leave me forlorn -
you will be the one to cry,
wishing you were never born:
break my heart and hope to die!
---
Aftermath
If I straighten quilt and pillow,
if I clean the glass she drank from,
if I move the chair she sat on -
will her spirit still be there?
If I empty out the ashtray,
throw away the empty matchbox
and remove the empty bottles -
will her spirit still be there?
If I read a book or poem,
if I listen to the Beatles,
if I think of other women -
will her spirit still be there?
---
Daisy Song
The daisy's beautiful this noon
and you, my love, today,
but as the daisy's flower soon
your beauty'll fade away.
It's hard for me to tell the truth
as you are still with me,
but the reminder of your youth
this song shall always be.
---
Rose of the Past
The flower of the rose that ceased to be,
her lovely smell, her beauty could not stay.
She came, she left: there's nothing left to say -
her dead remains won't be our destiny.
No life, no summer lasts eternally -
four seasons saw our rose until today
to grow, to flow'r, to pale and fade away,
although the queen of roses once was she.
Now other roses grow for you and me,
yet still this plant of pleasure and delight
will be an everlasting memory.
For looking back I evermore will see
just as it was, so colourful and bright,
the flower of the rose that ceased to be.
---
Freelove and Goodbye, 2nd Part
If true desire never lasts
and every tree must fall,
how come the candle's flame still casts
your shadow on the wall?
And if our love was easy since
it had no bonds or ties,
how come the gentle summer winds
still echo your soft sighs?
And if one night on swift wings flies
and doesn't mean too much,
how come that when I close my eyes
I still can feel your touch?
And if we've left each other's head
after that night we've spent,
how come my quilt and sheet still spread
the sweetness of your scent?
And if our yearning took to flight
after we've had our fill,
how come that in the stilly night
I taste your passion still?
And if there only was one place
and time for us to meet,
how come that when I see your face
my heart still fails to beat?
---
Love's Flower
Love's flower powerfully grows
through asphalt and through stone:
she spreads her fragrance, and she shows
us colours never known.
Sometimes a girl is walking down
the road to seize the day;
Love's Flower then is trod upon,
or plucked and thrown away.
We think she's dead, but magically
Love's Flow'r is coming back:
a few days later you can see
her peeping through the crack.
Love's Flower only wants to give
her beauty's scent to men;
Love's Flower does not grow to live,
but still she grows again.
---
Transfiguration
The daisies beautify the way,
the starlings sing,
and new-born lambs salute the day -
it's spring!
The daffodils embrace the sky,
the heavens bring
a gentle breeze, the lark flies high -
it's spring!
The sun declines and smiles once more
on everything,
the fishing boats return ashore -
it's spring!
The night is young, the swan's asleep
beneath his wing,
my lover's gone, the ocean's deep -
it's spring!
---
The Lad in the Moor
And no one knows, and no one knows
what happened in the moor,
but where the rose of torments grows
wait graves for rich and poor.
And no one hears, and no one hears
that petrifying yell,
for where appears the queen of spears,
no one will live to tell.
And no one feels, and no one feels
the anguish of the lad:
with iron heels the lady steels
herself to crush his head.
And no one sees, and no one sees
her kneeling in the mud:
a gentle breeze now blows to please
as she sucks up the blood.
---
Zeus' Sentence
Once a middle-aged admirer
came and challenged Atalanta,
virgin huntress, on her hillock
to a race. - 'You know the rules:
if you should win, you're free to claim my hymen,
if I should win, I'm free to claim your life!'
She was leading, but her suitor
suddenly became a stallion,
and he gathered speed; the huntress
dropped some sugar lumps along
the way. The stalwart stallion stopped to savour
the tasty treat and thus was left behind.
At the river she awaited
her competitor and, lifting
up her spear, she aimed precisely,
but her challenger declared,
'You cannot claim your prize. I am immortal:
I'm Zeus who never lost a race before!'
Atalanta turned around and
walked away with a contemptuous
look while Zeus, with eyes cast downwards,
clenched his fists in agony;
in aeons he had not felt that embarrassed
and prayed no one had witnessed his faux pas.
But behind the hill the painter
and the dramatist were watching
with the poet, and they could not
help but artify the scene
of Zeus mortification; not much later
the whole of Greece was laughing at their god.
Ladies pointed at the picture
of the painter in amusement,
and the mortals were in stitches
when they saw the comedy;
the poem took the country like a bush fire,
and children sang the ditty on the street.
Zeus came down again to sentence
them, and he addressed the painter,
'You shall never make a living
with your art,' and then he turned
against the dramatist, 'Above this judgement
your name shall not be known while you're alive!
'As for you,' he told the poet,
'you have spoiled my reputation,
and for you I have another
punishment on top of these:
through you my shame will always be remembered,
and therefore you shall never taste of love!'
---
Reading the Runes
Black cocks, a few toads and whatever they are
she'd stir in the soup which is thicker than tar,
her warty old finger would write on the brew
the letters which only her foremothers knew.
Into the grimy pot she'd stare,
'It won't be there, it won't be there!'
He'd look in the mountains, he'd seek in the plain,
be scouring the desert again and again,
he'd turn every stone and examine each rift
until he'd sit down and regret that he lived.
'Where is it? I've searched every where!' -
'It won't be there! It won't be there!'
The Lord of the Gates, with a questioning look,
would tell him to wait and then open his book,
and as he would ask all the Heavens above,
'And when did this man get his portion of love?'
he'd hear a raucous voice declare,
'It wasn't there! It wasn't there!'
---
Il poeta e la rosa
---
The rose may flower for a spring,
but all your life you'll feel her sting.
Old Saying
---
Eclipse
The gods destroy the wicked world
in an eclipse, it's said,
and if they're clement, they'll create
a New World after that.
The sun may never hide the moon
and take its light away;
Love's triumph over Reason shows
in heavenly display.
We stand in darkness as the sun
is covered by the moon,
but as you touch my hand, I know
there'll be a New World soon.
---
The Singer
She sits on top of me and sings
so softly that my soul grows wings,
a song that I have never heard,
and she translates it word for word.
She lies beside me in my bed
and lights another cigarette
and keeps on singing 'bout the lad
who was in love and poor and sad.
He killed the monarch's stately stags.
His girl goes to the king and begs
to spare his life; I think she failed
and nothing, nothing was availed.
A smile, a kiss - she holds me tight
and loves me in the candlelight,
and in my dreams I'll always see
the night she sang on top of me.
---
The Rose
I saw a garden of roses
behind a withered wall
where Heaven's light discloses
the most beautiful of all.
So I bent down to kiss her,
I think I heard her sigh,
no god knows how I miss her
since we have said goodbye.
---
These Pleasing Charms
These pleasing charms, this beauteous face,
these rose-red lips, their sensual smile,
these gentle hands, this warm embrace
are out of reach for quite a while.
This velvet hair, these mystic eyes,
this longing touch, this forceful kiss,
these snow-white breasts, these tender thighs
and hips are things I sadly miss.
And while these sources of delight
are many thousand miles away,
they're in my dreams throughout the night
and in my thoughts throughout the day.
---
The Ladybird
If I can't hold you in my arm,
which often has occurred,
I'll let you have my lucky charm:
I'll send the ladybird.
He flies to you as I would do
if only I had wings;
if he could talk as I can do,
he'd say the sweetest things.
And he would hear the sweetest things
that I have ever heard;
alas! At least my soul has wings
and is the ladybird.
But maybe if you meet again
you shouldn't say a word:
kiss him as softly as you can,
'cause I'm the ladybird.
---
Il fiume d'amore
Who tasted nectar shuns the wine;
I thought I was in love before,
but since I felt your lips on mine
I do not think so any more.
There's one for each amongst mankind
whom only lucky ones can find.
What came before was not like this;
some warm and gentle summer rains,
some pools to bathe in shallow bliss,
some runnels in the nymphs' domains.
They have refreshed my vision's hue
but failed to move me as you do.
Yet since we met that fateful night
love's torrents have surrounded me;
without a boat or plank in sight
its currents pull me out to sea.
Not even in my wildest dreams
did I create such furious streams!
---
Homecoming
I lived amongst the hills and mountains,
I lived beside the two-faced sea,
I lived in villages and cities
but never found my destiny.
Each of these places have been home
until I panted to depart,
but now I know the only place
I want to live in is your heart.
---
The Rose and the Butterfly
A rose stood in a garden who discreetly
kept votaries at bay till suddenly
a butterfly passed by, and she said sweetly,
Come, come to me!
Attracted by her tender voice and features
the butterfly approached the rose,
but then she told him like all other creatures,
Don't come too close!
He sadly thought she might have had restored him
and turned around to join his friends at play,
but then, in gentle tones, the rose implored him,
Don't fly away!
He wished to spend his life with this fair flower,
but then he felt that it could never be
as she upheld her blossom's iv'ry tower,
Don't land on me!
He hung his head, and not a comfort reached him;
he deemed his heart would soon turn into stone,
when with a mournful sigh the rose beseeched him,
Don't leave me alone!
Soaring above the rose while the sun adorned him,
he hovered over her for quite a while,
slowly descending, but at last she warned him,
Don't touch my style!
True lovers won't give up, nor will they harden:
come rain or shine, all visitors behold
the butterfly suspended o'er the garden
as he grows old!
The rose knows well her mind will never settle,
but still she lets her suitor spin around
until the butterfly and her last petal
fall to the ground.
---
A Night With God
God took me to his bounteous pastures
last night at half past ten
because he thought that after seeing
I might believe again.
There was a garden full of roses
that never lose their hue,
and on their petals, softly glistening,
eternal morning dew.
The whitest swans were gently gliding
upon the bluest lake,
there was a choir of gracile houris
to keep the mind awake.
There was a flower-covered fountain
that rendered sweetest wine;
the Lord and I, we had a glass,
'And now,' he said, 'you're mine!'
But I refused to stay in Heaven,
not falling for his charms,
for all his wonders fade compared to
one moment in your arms.
---
Lonely Rose
The Lonely Rose of Spring declares
that she will not get hurt -
she sends the butterfly away,
the bee and ladybird.
The Lonely Rose of Summer then
pretends to be content,
and every creature can be proud
who once has breathed her scent.
The Lonely Rose of Autumn sees
her blossom lose its hue,
and still she keeps her friends at bay
like haughty herons do.
The Lonely Rose of Winter has
no soul to share her grief
as her last petal hits the ground
long after her last leaf.
Without a passion in her heart
her lonely year is done;
the Lonely Rose has not been hurt
nor loved by anyone.
---
Thanksgiving
My heart is a field, and the reaper has come!
The maidens spread flowers, the host plays the drum,
the children all sing as they're loading the carts:
Thanksgiving is nigh for the harvest of hearts.
The barrows are full, and the barns have no room!
The host tilled his lands without knowing for whom,
he sowed and he furrowed the ground in spring's chime:
he trusted the reaper would call in due time.
The harvest moon rises, the bonfire is high!
The young folk are dancing beneath the blue sky,
the reaper embraces the host by the firs:
the host and the field and the harvest are hers.
Whatever may happen, the harvest is done!
The host lifts his eyes to the moon and the sun,
the stars in the heaven and all things above:
his field has been blessed by the goddess of Love.
---
The Rose Garden of Sonnets
1.
Most beautiful of flowers, in your spell
you hold a hundred suitors, and a train
of votaries has prayed to you in vain
and brought oblations at the sacred well.
Those who came close enough to you to smell
your fruity fragrance always will remain
in a celestial trance, for they maintain
the haunting memory of how they fell
in love with Beauty, and how Beauty took
them by their hands and hearts and eyes to see
the magic of Life's garden and to look
upon the rosebush's crimson mystery:
I'm one of them, and, standing at the brook,
I'm captured since you first appeared to me.
2.
I'm captured since you first appeared to me
with silver swans beside the peaceful stream
where, with a smile, you managed to redeem
my soul from wand'ring by your company.
Your tenderness restored my energy,
and now I know all things are what they seem,
I realised that Life is not a dream,
but that a dream is Life's reality.
I know that all things round me must exist
after you shut my eyes so I could see;
before I touched your leaves, before I kissed
the dewdrops from your petals which lay free,
before your warm embraces sealed our tryst,
I never thought that anything could be.
3.
I never thought that anything could be
so beautiful that it would lift my mind
to heights and peaks unknown to humankind
and let me reach the stars I didn't see.
And yet the flower that enchanted me
grows lovelier each day, so now I find
that all the flowers that I've left behind
are fading in your splendour's majesty.
The sight of you blurs everything around
and leaves me paralysed; since I could spell
I've tried transforming Beauty into sound,
I sang of Beauty and was doing well,
but you're the only thing I ever found
too splendid and too beautiful to tell.
4.
Too splendid and too colourful to tell
is what my eyes have seen when first we met,
a picture that won't ever leave my head,
a vivid image that will always dwell
within my heart, and at the sacred well
I will give thanks to all the gods who set
you on my track, and I will not forget
to sing their praise, submitting to their spell.
Without you, flow'r of flow'rs, my life would be
only a vibrant yet an empty shell,
but you were there to change my destiny.
You helped me on my feet after I fell
for you, you render a tranquillity
no Heaven could environ and no Hell.
5.
No Heaven could environ and no Hell
the tender feelings that I have for you,
Elysion couldn't make this dream come true
that is my life since you have cast your spell.
No Happy Hunting Grounds could e'er compel
the bliss of tasting of your morning dew,
and Tìr na nÒg can't be so bright and blue
that I would choose beneath its vault to dwell.
No Eden with its portals opened wide,
no Garden of Delights could render me
a sweeter fairer flower. By your side
I found the one place where I want to be;
no paradise, no god could e'er provide
the worldly pulchritude of what I see.
6.
The worldly pulchritude of what I see
is more than angels witness in the light
of Heaven's realms, and it's as twice as bright
as Heaven's sun with all his energy.
And yet your beauty is as soft to me
as pallid moonbeams in a summer night,
a gentle breeze in spring, or as a flight
of swans who like to keep my company.
The moment that I've seen you Fate gave birth
to what Olympus knew would have to be:
a flower of your elegance is worth
a poet's love, a lover's poetry;
you'd always be my sun, my moon, my earth,
if I could live through all eternity.
7.
If I could live through all eternity
and had the power of a god or king,
believe me that I wouldn't change a thing
apart from an abode for you and me.
If I would have a crystal ball to see
the future, I would take it and I'd bring
it back at once: I couldn't bear the sting
if you should leave me - ignorance makes free!
If I could travel back in time and space
to see the day Troy in its glory fell
and witness Helen's pulchritude and grace,
I'd stay beside you; since the sacred well
of Pegasus has mirrored Beauty's face,
there'd be no other place for me to dwell.
8.
There'd be no other place for me to dwell
without the blossom of the perfect flow'r:
if I could choose, I wouldn't spend an hour
away from you and from the sacred well.
I'll tune my lyre and raise my voice to tell
the world about my blessing, how I tow'r
above the skies and how your mystic pow'r
forever bound me in your magic spell.
The gardens of the world don't have the room
for all the happiness I feel; it seems
all troubles left my life, all grief and gloom.
And now I know your tender love redeems
my heart and soul as long as you will bloom
beside my placid spirit's peaceful streams.
9.
Beside my placid spirit's peaceful streams
there lies a pleasant meadow, green and rich,
and once you crossed the river on the bridge,
you'll find that nothing is the way it seems.
Conquered by rugged and romantic dreams
you will discover your most secret itch,
your thoughts at once will all come true in which
reality is forced into extremes.
The sparrow will escort you on your long
excursion, for the wanderer who goes
through No Man's Valley must be calm and strong.
And where the jewel of all flowers grows,
beyond the mountain of the happiest song,
there is a land no other poet knows.
10.
There is a land no other poet knows
with wild and craggy mountains in its core;
the restless ocean whips the stony shore
while over it the forceful west wind blows.
But in its very centre there arose
a peaceful hill where votaries adore
the gods of calm and silence, where no more
the storms can rage, and where my flower grows.
This is the pasture of my soul's desire,
here Life has synchronised with all my dreams,
and here I'll stay to sing and play the lyre.
Here we can listen to the tranquil streams,
here is it where we lit the paschal fire
and where the dawn of my salvation gleams.
11.
And where the dawn of my salvation gleams
the skies have brightened and unfold the light
in time to save me from the bleakest night
and from my pensive spirit's bitter screams.
The starlings sing, and now the welkin teems
with merry creatures in convivial flight,
and as they whirl about the clouds they might
invite me to the hillock of my dreams.
My wingèd horse will bring me there; I'll steal
a kiss from my beloved flow'r who knows
that all my tenderness for her I feel.
And when I kissed her leaves, she will disclose
her petals with a smile, and she'll reveal
a paradise within my heart that grows.
12.
A paradise within my heart that grows
around the centre of my world will be
my fate and everlasting destiny,
a paradise whose gates will never close.
And while the spark of Life within still glows,
I hear the tender love songs come to me
and sing about my love's eternity
in melodies no bird or poet knows.
The salmon jump, the water pipit flies
across the rivulet, the sunlight beams
intensely from the clear cerulean skies.
My flower waits beside the peaceful streams,
and with her help I'll build my paradise
round the creator of my gentlest dreams.
13.
Round the creator of my gentlest dreams
on golden pastures blooms the daffodil,
the buttercup and dandelion hold still
while from the heavens still the sunlight streams.
And when the full moon sends his tender beams,
the daisy reaches out to get her fill,
the lily opes beneath the water mill
while in the heavens still the moonlight gleams.
But in the centre of the peaceful mound
where Pegasus' enchanted water flows,
where you can hear the soothing ripples sound
as longingly the warming west wind blows,
you'll see the holy place where I have found
the Queen of Love and Poesy: the rose!
14.
The Queen of Love and Poesy, the rose
has been my destiny since time began:
I'm meant for her, and still I tremble when
I touch her beauty with a love that grows.
And when she opens to the light, she shows
her crimson petals every day again;
she made of me the world's most happy man
and renders me a love no lover knows.
So in your shadow I will sit and rhyme
beside the ripple of the poets' well
to praise the first of flowers in her prime.
At last I found my calling, and I shall
spend all my life until the end of time,
most beautiful of flowers, in your spell.
15.
Most beautiful of flowers, in your spell
I'm captured since you first appeared to me;
I never thought that anything could be
too splendid and too colourful to tell!
No Heaven could environ and no Hell
the worldly pulchritude of what I see:
if I could live through all eternity,
there'd be no other place for me to dwell.
Beside my placid spirit's peaceful streams
there is a land no other poet knows
and where the dawn of my salvation gleams,
a paradise within my heart that grows
round the creator of my gentlest dreams,
the Queen of Love and Poesy: the rose!
---
The Only Flower
The only flow'r that lasts grows in my heart,
its damask petals mirroring the dawn,
sharp like a spear is every poisonous thorn:
it brings bad luck to linger or depart.
Most terrible of flowers, cast your dart,
most beautiful one, let me be reborn,
most dangerous one, don't leave me forlorn,
oh gentlest one, and let our journey start.
There's many a place where nothing else can grow
that isn't routed by a raging sky,
typhoons of Time that evermore will blow;
as cultures, nations, centuries pass by
like poppies in a storm, it's all we know
that those who lived for love will never die.
---
Il poeta e la rosa
Once I will ask the creator about my fate, and he will
answer, 'Didn't you know that I have made the poet to
love and the rose to be loved, not the other way round?'
---
Solitary Anniversary
In sultry dreams I still can feel and see
your lissome body being one with mine,
I taste your kiss as sweet as Tuscan wine
and have to sing our passion's threnody.
I can remember all the times when we
walked hand in hand to see the sun decline
and celebrate, while still for you I pine,
a solitary anniversary.
Nobody wants to see, and no one sees
the red-hot flame of all my memories
which evermore my song of songs shall be;
the ardent songs Love ever did create
desert the poet who must celebrate
a solitary anniversary.
---
Roses at the Way
When everything seems gloomy, dim and grey,
you have to travel forth and look ahead:
the present may present you grave and sad,
but every road hosts roses at the way.
And when your heart's in turmoil and dismay,
and when you count the countless tears you've shed
for this one flow'r you love and that has fled:
you'll find another rose beside the way.
Although it may be long before you'll see
another flow'r like her; eventually
you'll find one where you least expect a bloom:
so, with your melancholy and your gloom,
live for the blessings of the coming day
when you will find a rose beside the way.
---
Footprints on the Patio
Spring cleaning's almost done! I take the lid off
the bleach, get down, and once again I start;
no matter how I try, I can't get rid of
your footprints on the patio of my heart.
Today the lazy afternoons I share with
my dreams grow longer; we have been apart
for half a generation, still I bear with
your footprints on the patio of my heart.
In hundred years or so another tenant
may wonder all about the faded chart,
the buried secret in the dusty pen and
your footprints on the patio of my heart.
---
© Frank L. Ludwig
---