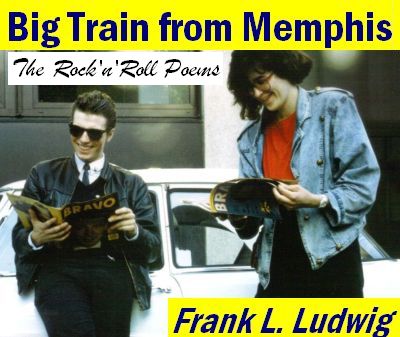 ---
When Rock'n'Roll and I Were Friends
The First Revival was the first
I saw of him; I waited long.
Of all regrets it is the worst
that I was born too late – his song
was still the same, but I recall
the Fifties had a better sound,
yet I am grateful after all
I met him while he was around:
the world was music and romance
when Rock'n'Roll and I were friends.
His ballroom was the place to be
where time went backwards and stood still:
I rocked with Chuck and Jerry Lee
and walked with Fats on Blueberry Hill.
The legends lived; they'd never die
as long as we kept rocking on!
We danced in the Hall of Fame, and I
felt cherished by the Pantheon
when Johnny Cash and I shook hands
and Rock'n'Roll and I were friends.
Those were the days, and far too few,
when red-haired Gina stroked my hair
at Rockabilly Ballyhoo
and led me to the dance floor where
we danced so wild, so fast, so tight;
I think I never danced that much!
She left with someone else that night,
but I still feel her body's touch,
the magic sparkles of that dance
when Rock'n'Roll and I were friends.
He has retired, but I still see
him every now and then in town;
we'd share a joke or pleasantry,
and as I'd listen with a frown
he'd tell me of his plans to go
back into business very soon,
some night when all the lights are low
and lovers worship the Blue Moon.
'When's that?' I'd ask. – 'Well, that depends...'
Yes, Rock'n'Roll and I were friends!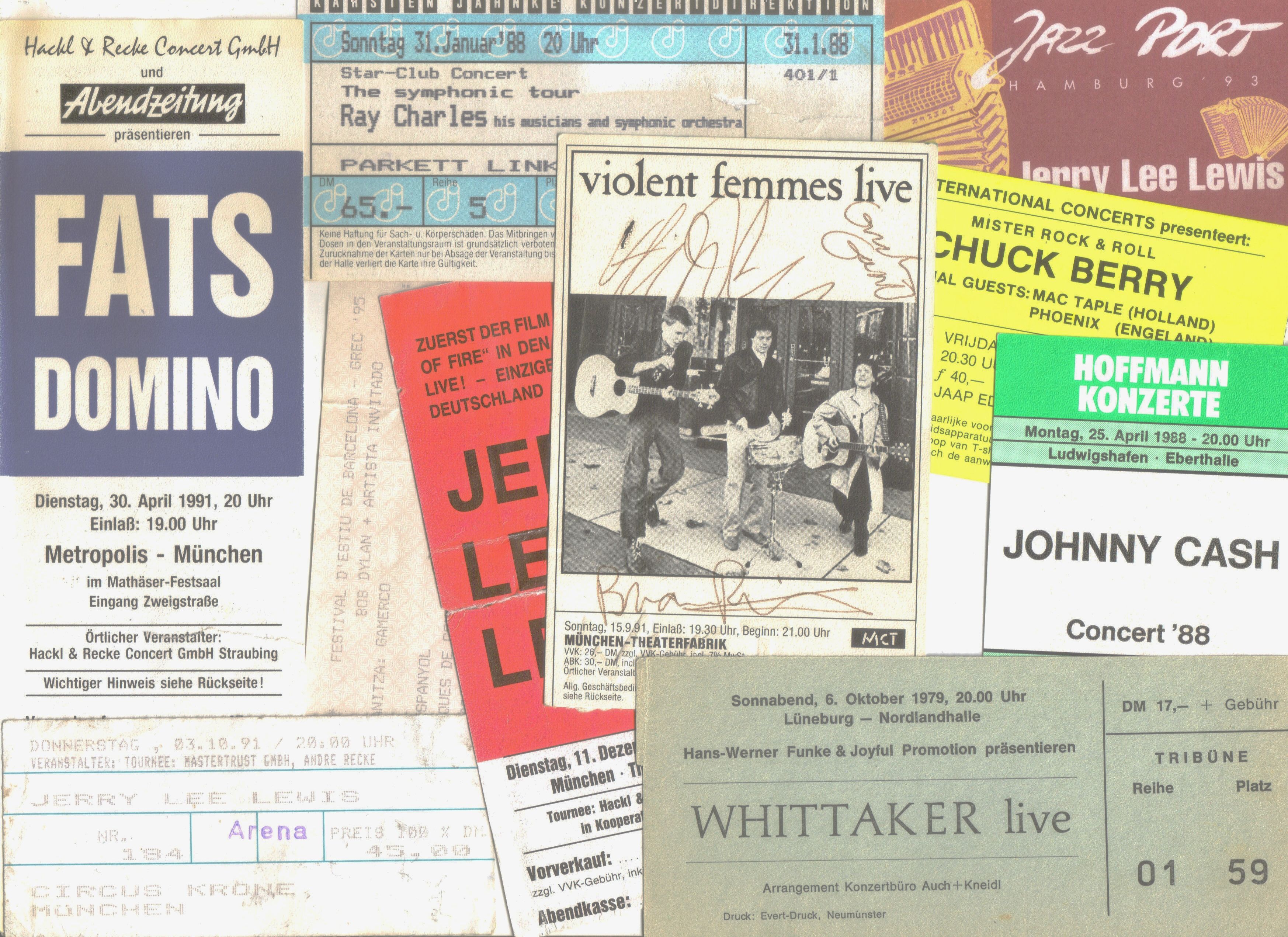 ---
Inventing Sam Phillips
From Bangor, Maine to Dallas
is a long and tiring drive,
and Aaron rested, feeling
more zombie than alive.
A preacher by the roadside
asked for a lift, and so
he let him in and coolly
switched on the radio.
They listened to Oasis
as the truck went on the road
and sang along while laughing,
'The engine might explode!'
From the last rays of daylight
to the first rays of the moon
the two of them kept singing
to almost every tune.
They hung it in like Gunga Din
and talked of things that might have been.
Just a few miles from Memphis,
the city lights ahead
and Perseids in the distance,
Aaron slowed down and said,
'Here's where I live - I reckon
that you could stay to preach,
meet Regis and our grandkids
and listen to her speech
about me bringing vagrants
into our home, or we
could go for drinks and music
in that honky-tonk you see,
then spend the night in the sleeper
and travel on at dawn.
What do you say?' - The preacher
just answered with a yawn.
'Okay,' said Aaron, 'let's go in
and talk of things that might have been.'
They went up to a table
where his friend John engaged
in drowning ancient sorrows
in spirits twice as aged.
'How is it going, buddy?' -
'Down, just as usual,' John
replied. 'The shop is bankrupt,
and my sixth wife is gone.' -
'Oh, this old fart is Jerry,
a preacher from the South,
with a big love for music
and an even bigger mouth.'
The two shook hands, and Johnny
said, 'Great, tonight they will
give us a country singer
named Carl from Tiptonville
while we'll play cards and I shall win
and talk of things that might have been.'
Carl came on stage and sang to
the small but eager crowd
in front of an idle piano
that was covered with a shroud.
He picked his guitar and rendered
the songs that were his own,
and after a while he admitted,
'I hate to sing alone.
Is anybody out there
who'd like to join me here?'
Aaron nudged his friend Johnny
who almost spilled his beer.
He got a guitar from the barman
('Make sure to bring it back'),
and Carl announced the musician,
'Here comes the man in black!
Let's sing of redemption from evil and sin
and other things that might have been.'
'Here's one that I have written
when I was young,' said John,
and Carl picked up the tune as
John sang of one who'd gone
to prison for a murder
and hears a train pass by,
sounding just like a freight train
himself. - 'Say, Carl, can I
call up another singer?' -
'If he's as good as you,
go right ahead!' - 'Hey Elvis,
come here and join the crew!' -
'Elvis?' asked Jerry, puzzled,
as Aaron rose to claim
the next guitar. He answered,
'Aaron's my middle name.'
His magic voice caused heads to spin
and think of things that might have been.
Cellphones came out. More people
came in and filled the place.
A man went up and, holding
a flashlight to his face,
took a close look at Aaron.
Then, slowly turning back,
he shouted to his girlfriend,
'He really isn't black!'
Jerry checked the piano.
'Does this still work today?'
Not waiting for an answer
he took the shroud away
and pounded on the keyboard
with elbows, fists and arms,
and young girls by the dozen
fell victim to his charms.
He watched their frenzy with a grin
and dreamt of things that might have been.
The three guitar men had bourbon
and beer after the show
while Jerry played another,
'I'll be the last to go!'
The manager approached them,
'I think if you had met
some forty years ago now,
such a superb quartet
could have sold a million pesos.'
John smiled, 'I hope in cash.'
'There's an idea,' said Aaron.
'If we could start afresh,
we all could be world-famous.
I'm sure we got the make
of stars if chance would only
have given us a break.' -
'And I suppose you'll fill us in
on all the things that might have been?'
'Let's say there was a producer
in Memphis who was keen
to find young artists for the
developing music scene.' -
'How about Carl and Jerry?'
asked John. - 'If there had been
a place like that I surely
would've travelled,' Carl threw in.
'Me too,' said Jerry. 'One time
I came across your town
on my way to the Grand Ole Opry
where they have turned me down.' -
Johnny could not believe it,
'You really went that far?
What was it that they told you?' -
'To get myself a guitar.'
They drank their whiskey, beer and gin,
inventing things that might have been.
'Let's call that guy Sam Phillips.' -
'Let's say he also ran
a self-recording service
to find those gifted men
too shy to go for auditions.' -
'We'd be every teenager's dream
and tour the world, drive the fellas
wild and make women scream.' -
'And all of today's musicians
would know the songs we sung,'
said Carl as they left the building.
'Of course, we might die young,'
mused Aaron, and the preacher
grew pale. 'Not all, you know,'
he added to console him,
'you'd be the last to go!'
They watched the night sky wistfully,
imagining things that may well be.
---
The Echo of the Sun
Enchanted by the sound of light,
lovers worldwide embraced the night;
vain boyfriends sang, just for the fun,
in harmony with stars whose flight
silenced the echo of the Sun.
Just once they'd gathered when the sky,
eternal, was the limit; why
regret that this was not redone -
right now we cherish, with a sigh,
yesterday's echo of the Sun.
Joyfully bringing joy to man
our heroes were still young back then -
how time flew by since they've begun;
now those who live around us can
not hear the echo of the Sun:
yet it remains, just off the charts.
Cosmically, when a star departs,
a mem'ry takes their place anon:
right in the juke box of our hearts
lingers the echo of the Sun.
---
A Love that Cupid Couldn't Save
'I will not sing that line,' she screamed
at Bobby Darin, for she deemed
it too explicit. Bobby smiled
at Connie Francis and said, 'Child,
it's necessary for the song,
that's why I wrote it. It's not wrong,
and it won't do the slightest harm!' -
Next thing he found her in his arm:
a love that Cupid couldn't save,
a love to last beyond the grave.
Their fans all welcomed the good news.
Her father had some different views,
'Bobby's in showbusiness, just some
highly uneducated bum,
and he ain't going nowhere!' - He
continued ranting frantically,
removing spittle now and then,
'You will not see that boy again!'
A love that Cupid couldn't save,
a love to last beyond the grave.
The two did not abandon hope:
making arrangements to elope
after the Jackie Gleason Show
where both performed they planned to go
away, but as they snuggled in
a corner where the seats wore thin
her father jumped in with a gun
he aimed at them and spoilt the fun,
a love that Cupid couldn't save,
a love to last beyond the grave.
When driving through a tunnel, her
dad said, when hearing on the air
that Bobby Darin took a wife,
'Guess now he'll be out of your life.'
She wished the tunnel would give in
to drown her father who had been
so cruel and herself who'd lost
all that she cared for at such cost,
a love that Cupid couldn't save,
a love to last beyond the grave.
Sixteen years later Bobby died;
we can imagine how she cried,
and while the fans shared Connie's grief
nobody shared her dad's relief.
Two generations after their
dilapidated love affair
she states her worst mistake in love
was not to marry her true love,
a love that Cupid couldn't save,
a love that lasts beyond the grave.
---
Eddie Cochran's Guitar
You may have noticed I'm a Gretsch:
when Eddie saw me on the rack
he knew at once we were a match
and, putting dog ears on my neck,
created something strong whose soul
would change the course of Rock'n'Roll.
Backstage in Melbourne I was shared
as Little Richard picked my strings.
Then, on a flight, he got plain scared
of Sputniks and of burning wings;
Rock Music's most flamboyant man
turned homeward to be born again.
While he and Eddie were on tour
young Buddy Holly played a song
on me and told him with his pure
shy smile, 'I couldn't tune that long,
for the entire venue rocks
the sec my Strat's out of the box!'
Then Ritchie Valens took a loan
of me for starring in a scene
of Go Johnny Go (which wasn't shown
while he still lived), and with a keen
performance rocked and rolled the hearts
of diners waiting for their tarts.
After the Day the Music Died
Ed sang Three Stars in memory
of those who crashed but was denied
to see the dirge released as he
kept breaking into tears for his
good friends he and the world would miss.
Their tour of the UK drew near.
Ed told Gene Vincent, 'Let me fetch
my babe - I always longed to hear
Be-Bop-A Lula on my Gretsch.'
Gene sang his anthem on the night
before they left to catch their flight.
After a gig a fight broke out.
A crazy fan who wouldn't yield
ran up to Eddie with a shout
and knelt in front of us to shield
me from the mob; it's such a shame
he was too wise to touch my frame.
In London, with a happy smile,
a little boy walked up to Ed
and told him how he loved his style.
Ed talked to him, and when he said,
'You want to carry my guitar?'
Marc Bolan brought me to the car.
In Bristol Ed approached a lad,
'You've been at all our concerts. Who
are you?' – 'George Harrison,' he said,
I want to play guitar like you!'
So Eddie showed him a little trick
and found that George was learning quick.
After that show a cab was hired
to Heathrow Airport. The driver sped
while Gene and Eddie's girl admired
a few new tunes he played like mad.
He held me in triumphant bliss,
'Now here's a hit. Listen to this!'
The taxi crashed, the world did pause.
The young police cadet Dave Dee
who worked in Wiltshire where I was
impounded took a loan of me
during his shifts and, bar by bar,
he taught himself to play guitar.
Today my powers are the same,
though currently I'm locked away:
I'm resting in the Hall of Fame
where I am waiting for the day
when someone else, by touching me,
will find success and tragedy.
---
Mocambo
'You know we'll have no negro in our club,'
the owner pointed out, 'not as a guest,
and surely not on stage!' - And with that snub
he thought he'd put the argument to rest.
'If you engage her, I'll be there as well
and book a table at the front for all
her shows!' - 'You'd really do that? What the hell,
if that's the case, I shall reverse my call!'
A few days later, to the crowd's delight,
Ella Fitzgerald would perform her show,
and at the front sat, every single night,
just as she'd promised, Marilyn Monroe.
---
Auf der Reeperbahn nachts um halb eins
With their last few hard-earned Deutschmarks
Gerry and John went for a stroll.
Both of their bands* had finished playing,
and they were ready to rock'n'roll.
Keen on Hamburg's blonde girls and nightlife,
they took a walk down the Reeperbahn,
staring at the displays in the windows,
when Gerry had a plan,
'I have heard a story from a sailor in a bar,
claiming that there's a lot more action in a side street, not too far.
I would love to find out tonight what the hype is about:
Why not go down to Herbertstraße and check it out?'
Auf der Reeperbahn nachts um halb eins,
when the last pale street light declines,
you will see the night in a different light,
auf der Reeperbahn nachts um halb eins.
On the Reeperbahn there's the unknown,
but you'll never walk there alone,
and between the bars you can see the stars.
On the Reeperbahn there's the unknown.
So they went around the corner
to a small establishment,
and there they paid the ancient doorman
forty Marks towards food and rent.
Sitting down on the couch, they waited,
but soon their prospects were looking grim,
for, compared to what came down the staircase,
a walrus would be slim.
John looked at a mountain of raw meat that seemed bizarre,
and he heard Gerry in the distance, 'Ever seen a bus with a bra?'
They stormed out, and they slammed the door, far too scared to look back,
ran as fast as they could as they panted, 'Well, what the heck –'
On the Reeperbahn after half twelve
it is every man for himself.
Once they caught their breath from escaping death,
Gerry said to John after half twelve,
'Let's go back for our cash while alive,
we've got nix for it!' - 'Let's take five,'
John said. 'Tell me why you did not, for I
got the fright of me bloody life!'
(*Wonder what bands they played in? Hover here.)
---
The Greta Garbo Home for Wayward Boys and Girls
When your old folks don't understand
your views because they're daft,
when you are trying to escape
conventions or the draft,
just run away and don't look back,
don't cast to swine your pearls:
come to the Greta Garbo Home
for Wayward Boys and Girls.
The rent is low, and here you can
chill out with friends who care
under the California sun
with flowers in your hair.
And if you should, by any chance,
need help to reach the Haight,
then Super Spade will fix you up
and make you feel all right.
Some rock and roll, some do the twist,
while others sing the blues,
and there's a never-ending stock
of free high button shoes.
You'll find free music and free love,
and fine free art unfurls
around the Greta Garbo Home
for Wayward Boys and Girls.
Whoever you are, you're welcome here
to join us in today's
pursuit of happiness in our
most individual ways.
We're friends with cops and nuns, although
they think we're too far gone;
sometimes the neighbours may complain,
but mostly we get on.
Do as your heart desires, but
in everything you do
you should remember at all times
that Greta's watching you.
Opposing the establishment,
ignore the scoff it hurls
against the Greta Garbo Home
for Wayward Boys and Girls.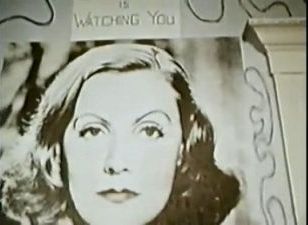 ---
On a Boat to Mick Jagger
Mick Jagger is in the kitchen,
preparing chicken scones,
and the thunderbolts and lightning
remind him of Brian Jones.
On the other side of the estuary
we gather at the boat
to row across the water
and cut his bloody throat.
We're on a boat to Mick Jagger
because we think he behaved
abominably, dismissing
the guys by who he was saved.
He fired us, and if we hadn't
drunk it already, I fear
he probably would have refused us
our $500 in beer.
He's accusing the Angels of murder
and tells everyone that we're sick,
just because we bumped off a nigger
who dared to bring a white chick.
He had pointed a gun at Mick Jagger
who'd be in a terrible mess
had we not subdued the assassin:
we saved his skinny ass!
Before he'll die, we will make him
crawl on the carpet and squall,
and he'll understand that Hell's Angels
are not cold-blooded killers at all.
We're rowing to Long Island,
and a storm will not delay
us from seeking revenge. 'Move over,
get your beer belly out of the way!'
'Look who's talking, Odobie. Just squeeze your
fat butt on the bench, and when
you have managed to sit, reach behind me
and get me another can!'
'Hey Obelix, go a bit further
to the left, or we'll capsize ashore.
Has any of you ever been on
a rowing boat before?'
The others burst out laughing.
'Let's go, because there are signs
that the storm will get worse,' I warn them
and tell Obelix, 'Cast off lines!'
'I can't reach the pier.' – 'Then just sever
the bloody rope, we can't wait!'
He takes out his knife. 'Don't lean over!'
I shout, but a second too late.
Holding on to our cans and our weapons,
we emerge from under the boat
which delights in the certain advantage
that, other than us, it can float.
'I'm off,' I tell the others
and shiver as I climb
out of the freezing water,
'let's do this some other time.'
Mick Jagger looks out of the window,
clutching his kitchen knife,
unaware the storm that is raging
has probably saved his life.
(Click here to listen to On a Boat to Mick Jagger performed by Jack Knowlson and Jack Smith on Radio Seagull.)
---
Ancestor Worship
When the concert was over, the Killer
met his son who was waiting backstage
and took off his bow tie and tuxedo
which were, in those days, all the rage.
'I need to see Jerry Lee Lewis!'
they heard someone shout, and then
the door burst wide open, announcing
a very excited young man.
He fell to his knees and paid homage
to the idol he'd come to see,
'Without you there'd have been no Beatles,
without you there wouldn't be me!'
'Is that John Lennon?' asked Junior,
confused at a scene so bizarre.
'That is John Lennon,' his father
confirmed with his jaw ajar.
Like the spring gives birth to the summer,
Rock'n'Roll gave birth to Beat;
the return to his roots was the reason
John Lennon kissed Jerry Lee's feet.
(This poem is based on Jerry Lee Lewis' account. A very different version is told by Rory Gallagher.)
---
A Piece of Zombie Skin
When someone who conducts a choir
gets cramps, a smoker who caught fire
after he drank poteen and burped
calls 9-1-1 and just gets murped,
they'll realise, with mouth afoam,
they're jinxed, and if they search their home,
they'll find a piece of zombie skin
from Izzy and from Aaralyn.
When in the middle of the night
you wake up with a beastly fright
because you had a nasty dream
and all the neighbours hear you scream -
take a deep breath, calm down and look
under your bed and check the nook:
you'll find a piece of zombie skin
from Izzy and from Aaralyn.
---
Rock'n'Roll Moon
It's a Rock'n'Roll Moon and the lights are out,
for the moon shines so bright we can do without,
the old folks are gone and the garden is ours
where we party amongst the cicadas and flow'rs,
where we dance to the beat, where we twist and shout:
it's a Rock'n'Roll Moon and the lights are out.
It's a Rock'n'Roll Moon and the night is young,
and we sing along to what others have sung
when the world was different and yet the same
and the actual Rock'n'Roll Hall of Fame
was on Union Avenue. There's no doubt:
it's a Rock'n'Roll Moon and the lights are out.
It's a Rock'n'Roll Moon all over the world
with a brilliantly luminous night sky unfurled
where we rock with the moon and with stars that have gone
a long time ago but whose light still shines on;
for remembrance is what the future's about:
it's a Rock'n'Roll Moon and the lights are out.
---
© Frank L. Ludwig
---