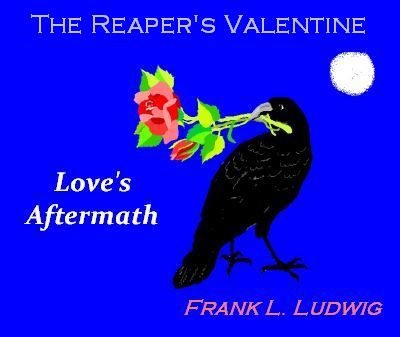 ---
The Reaper's Valentine
Through snow the crocus broke its way;
they heard the sparrow's song
and pledged their love until the day
a stranger came along.
And when the crocus gave its sign
where once their love they shared
he sent a Reaper's valentine
to show that he still cared.
The pine tree was two lovers' tryst
where secretly they'd lie
among the grass until she kissed
him and his dreams goodbye.
And on a winter night his ghost
appeared behind the pine
and gave to her he loved the most
a Reaper's valentine.
My own true love will come tonight,
trapped in my daisy chain,
and in the dusky candlelight
I wait, and wait in vain.
'She lies,' declare the stars above
as all my hopes decline;
I will arise and send my love
a Reaper's valentine.
---
Ode to a Turtledove
Oh wingèd rat of crowded market places,
nobody knows which viruses you spread,
and when you drop your droppings in our faces
you coo at us, expecting to be fed.
You fattest fowl, you ugly turtledove,
whoever christened you the Bird of Love?
You look so crude and clumsy when you flutter
your wings and beg for bread in whinging tones,
and when you woo the noises that you utter
sound like a dying farmer's final groans.
Disgusting fowl, revolting turtledove,
whoever christened you the Bird of Love?
You take what you can get, then rise above us,
and in return you give your muck - unfit
to stop you I remember all the lovers
I've had so far, and now I must admit
that after all, you greedy turtledove,
your name is fitting, you're the Bird of Love.
---
By Any Other Name
A wise man said that which we call a rose
by any other name would smell as sweet.
What's in a name? As everybody knows,
it is the thing and not the name that's sweet.
What if the ancient Romans had been less
romantic in those rustic days of yore,
if they had found it growing where an ass
had left its smelly mark not long before?
They would have called it dungthorn, and today
it would be used on chocolate box designs,
and girls would count and boastfully display
the dungthorns they receive on Valentine's.
From every corner of the world we know
people would come to Kerry just to see
and celebrate the highlight of the show:
the crowning of the Dungthorn of Tralee.
If a corrupt official were about
to be exposed but sees the telltale die
the public would remark that he came out
smelling of dungthorns – what a lucky guy!
A poem without dungthorns couldn't win
a woman's heart nor instigate her lust,
and I would tell you life has always been
a bed of dungthorns for the upper crust.
Our amorous encounters then would be
under the dungthorn – we must be discreet,
and we would say a dungthorn, naturally,
by any other name would smell as sweet.
---
Before You Leave
Before you leave, drink up your wine
and wash the dishes that you used,
and leave the roses you refused,
and don't confuse your things and mine.
Divide the stuff we bought these days
correctly and put on your coat,
and take the valentines you wrote,
and put my heart back in its place.
---
Hearts of Teflon™
You know that hearts of Teflon™
withstand volcanic heat
as well as absolute zero
which is a striking feat.
And when you've cooked up something
with someone who'll confess
they weren't really hungry
it leaves no sticky mess.
Teflon™ protects its owner
through rain and thunderstorm;
it will resist all friction
and hardly change its form.
It can't be touched by fluids,
rejecting hopes and fears;
with care, a heart of Teflon™
can last a hundred years!
---
Thunderstorm
Clouds arolling, clouds aroaring,
clouds aflashing in the night,
and the bucketfuls are pouring
as the thunderbolts ignite.
And I saunter through the pine wood
with my spirits on their knees,
but arising as cloud nine would,
high above my memories.
And the lightning keeps on flaring,
beams against the sombre-hued
skies that open in a blaring
symphony of disquietude.
Mighty Zeus, just keep on waging
booming weather on the pines
till amidst the storm the raging
thunder of my heart declines.
---
Under the Lotterbush
We sat under the lotterbush
with daisies in our hair;
its flowers blossomed as we kissed,
and spring was in the air.
The lotterbush was where we met
when heart called out to heart,
and it was here we pledged our love
and said we'd never part.
The lotterbush sheltered our love,
and since it died away
no plant has grown, and not one flow'r
has seen the light of day.
But when I close my eyes all things
that matter are still there:
I sit under the lotterbush
with daisies in my hair.
---
The Lord's Sex
God keeps his creatures in suspense,
lulled in a tantalusian sleep,
appealing to their common sense
with promises he'll never keep.
And when his subjects' spirits grow
too restless under woe unfurled
he works a miracle to show
that soon he'll come to save the world.
Believing every word he says,
they once again obey his call;
it's clear, though wearing mannish dress,
that God's a woman after all.
---
Anatomic Lesson
Oh, I advise you: love not with your heart!
You would abuse your nose if you would try
to eat with it, and soon your shepherd's pie
would sting your nostrils like a fiery dart.
At busy crossroads it would not be smart
to look out with your ear and close your eye:
you will get hurt, and you might even die
if you refuse to use the proper part!
Your teeth were made to grind the mellow spud,
your neck was made to bend your head and shove
down all that food, and for the endless flood
of drinks your throat was made, the brain above
to think. Your heart was made to pump the blood;
another part of you was made to love.
---
How Can I Sleep?
I close my eyes and go to sleep
and leave the restless world outside.
How can I sleep while Evil wakes
and hundred of her servants ride?
How can I sleep while thousand men
are killed because of their beliefs,
their land, the colour of their skin,
or in the battles of their chiefs?
How can I sleep while thousand men
in need must sacrifice their health
and thousand children have to work
to multiply a few men's wealth?
How can I sleep amidst the wars
and the defenceless' pain and strife,
how can I sleep while people die,
how can I sleep while you're alive?
---
The Wilful Romantic
Ten scars are on my back or more,
half of my tail is lost,
but still I roam the kitchen floor
to eat, whate'er the cost.
I should be warned, but I'm a male,
not learning from mistakes,
and so I follow every trail
of food till morning breaks.
There'll be a night of no release:
the metal bar will snap,
but as I need to get some cheese
I have to find a trap.
---
Reason
I told my love about the mountains
I saw as I walked by,
I talked about the restless ocean,
about the azure sky.
I mentioned all the long-stemmed roses
and daisies on my way,
the soothing ripple of the river,
the lark that sang all day.
And I described the blooming meadows
and life's eternity;
my love just frowned and shrugged her shoulders:
What good is that to me?
---
Oh Speak Not Of Love!
Oh speak not of love! Thou art female, and never
this concept was grasped by a woman, it's true:
a gallant declaring his love loves forever,
a woman refers to an evening or two.
Then speak not of love! By the light of the candle
we cling to each other and tighten our grips:
I love thee sincerely, but I could not handle
the taste of the word to decay on thy lips.
---
A Woman's Silence
A woman's silence, the prophet declares,
is very much like the dress that she wears:
we don't pay attention to what it conceals,
too occupied staring at what it reveals!
---
Sign Language
From birth all men have been conditioned
to follow woman's rule, it's true,
to be productive and efficient
and bring our pay cheque home. And to
display submission to their gender
(like the white flag that signifies
one's unconditional surrender)
we use the signs they recognise.
Instead of holding up a poster
that tells the woman, 'I'll be frank -
I do not think that I'm a boaster,
but I've some savings in the bank!
Should my account grow any thinner
with your expenses I'll be grand,'
we bring the lady out for dinner,
buy a red rose and hold her hand.
Rather than saying in a letter,
'I want to wear your ball and chain;
you can, to levitate the fetter,
prove yourself thankful now and again.
I'll be your slave and money bringer:
you rest your bum - I'll work for two!'
we put the ring around her finger
and smile at her and say I do!
---
It's Easy
It's easy together! -
I thought we were in love for good,
she'd be as honest as she could,
but sure I was mistaking -
she's steadfast as a butterfly,
so go ahead and have a try:
it's easy to get her.
---
To the One-Nightress
One-nightress, you have brought me one solution,
and you created yet another myth:
you made me want another contribution
and cleansed me of the last thing I was with.
---
© Frank L. Ludwig
---