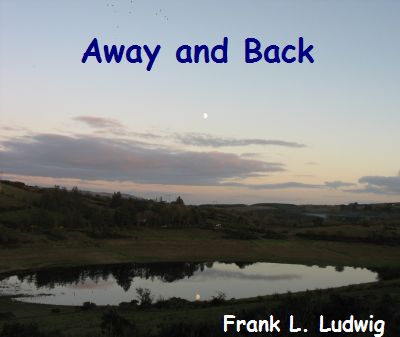 ---
Anthem of the Beatles Day Born
It's been a hard day's night, and when the Beatles got their due
after a straining flight, our mothers were in labour, too.
And when they got off that plane and saw the town go insane,
it made them feel all right.
When we commenced to drool, the band that everyone debates
returned to Liverpool from their big tour around the States.
And when they heard someone say that they were stars from that day,
it made them feel real cool.
When you're born everything seems to be right,
when you're born, born on the Beatles' great night, night...
---
Frankness
To be Frank, I am unable
to comply with any norm
since my independent nature
wasn't programmed to conform.
To be Frank, my views are steadfast
if not challenged logicwise
since my strong determined spirit
wasn't made to compromise.
To be Frank, some things I utter
meet reactions unforeseen
since my unperceptive frontal
lobe expresses what I mean.
---
Harbour Train
The harbour train is calling,
the lonesome whistle blows,
and from the restless ocean
I'll go where no one goes.
Across the grassy mainland
whose bovines take no heed
and past the vibrant cornfields
it rolls at heavy speed.
Its anxious engine pounding,
it jerks with every clack,
and halfway it abruptly
departs the beaten track.
To make our destination,
it steams ahead through green
forests, ravines and valleys
no one has ever seen.
The wheels race down the railway
with iron will and zeal,
and through the open window
I smell the sparking steel.
And when the ride is over,
beyond the final bend,
I'll reach another ocean
upon my journey's end.
---
Possibilities
Each step I took on Earth led me away
from other tempting destinations while
random decisions guided, mile for mile,
my journey and determined where to stay.
Each step I took in life led me to go
forth from another opportunity;
random encounters shaped my destiny,
and of the ones I missed I'll never know.
Of all the trillion places I could be
today, some certainly are better and
a lot of them much worse, but here I stand,
for where I am is good enough for me.
---
The Blackboard Mind
My mind is like a student's blackboard
for random topics that I chose,
containing all the information
I need for poems I compose.
And when at last my piece is written,
the board's wiped clean of its entire
content, providing space for knowledge
my future project will require.
---
The Jetsam of My Ancient Past
Now that the roundtrip is completed
and I approach the port once more,
I see some of the ancient jetsam
that I've thrown overboard before.
No indication of the satchel
remains, but near the daunting Caves
of Yesterday I spot some pages
of school books floating on the waves.
Some of the old piano's hammers
and untuned strings still drift around,
but now, without the sunken keyboard,
they sometimes meet but make no sound.
Yet there's no sign of the detested
black Sunday suit I wouldn't keep
which must be resting at the bottom
where it rests well beneath the deep.
And while the east wind takes me westwards,
I check as closely as I can
what else there is I could be shedding
to safely reach the port again.
---
The Abandoned Gaol
I build a prison in my head
where I, exerting self-defence,
incarcerate the thoughts that bred
the doubts about my competence.
Here I detain ideas I deem
counterproductive to my growth
who sabotaged my self-esteem
and chanted jibes I dread and loathe.
Here stay the notions which forbade
my ego to believe in me,
and once the last arrest is made
I'll lock the gate and burn the key.
---
The Children of Lir
What kind of curse is that? To be
a swan, rambling from lake to lake,
seems more desirable to me
than being man of human make.
How often did I close my eyes
and wish I could be living on
the water under azure skies
and fly as deftly as a swan.
---
A Day Without Life
No places to go to, no people to meet,
no faces that know you and talk in the street,
no woman whose smile cuts your heart like a knife;
there's nothing as calm as a day without life.
No need to say sorry, no need to forgive:
a good day to die and a good day to live!
The flow of your time is too easy for strife;
there's nothing as bright as a day without life.
---
Essence
Gone are the days of the next-door horizon:
endless is everything, nothing important,
everything alters and nothing will change.
Watching the wheels or attempting to turn them
won't change their speed and won't change their direction:
with you, without you this world stays the same.
Nothing to wait for and nothing to fight for,
nothing to live for and nothing to die for;
still it is nice to be here.
---
The Strangeness of Being
The strangeness of being we fondly endure
by searching for systems, so simple and pure,
that every man jack, every fool and his wife
may manage to fathom the meaning of Life.
The quest for this meaning divides us from beast;
we feel we are chosen, to say but the least -
and why? We research. The result of our strife:
we're smarter for searching a meaning of Life.
The gods drink their nectar and water the land,
and what they created they don't understand;
like Beauty I never would question but see,
the strangeness of being is nectar to me.
---
The Evanescing Curse
The playful gods afflicted me
with many a waggish curse for fun
but spared me from the worst of all
they call the evanescing one.
There is a curse that makes you weird,
and one that never lets you win
at life, but there's a curse that's worse,
and that's the curse of fitting in.
All the accursed ones have become
invisible, removed from view,
for none of them will change the world,
and none will fashion something new.
Thus for the life of me I can't,
despite the trials through which I've been,
imagine anything that's worse
than this: the curse of fitting in.
---
The Holy Grail
May the sun god hide the moon,
may the summer fail,
may you leave, I know I'll soon
find the Holy Grail.
May you grin and may you smile,
may you weep and wail,
may you laugh: I know that I'll
find the Holy Grail.
May the winter be my guest,
may the wine grow stale,
may we do what you suggest:
I shall find the Grail.
May you hear the church bells chime
when I'm old and pale,
may I die before my time:
I will find the Grail.
---
The Mind Field
Never let another foil
your own thought when it appears,
for the mind is but the soil
for unlimited ideas;
many seeds, though, never found
springtime's lush and fertile ground.
When your thought is on its way
and you know it's well-devised,
you'll ignore what others say
and in autumn be surprised
at the produce you will find
if you grow what's in your mind.
---
Illusions
Only observed at 42 degrees
the rainbow is, despite what we perceive,
an optical illusion; what one sees
is but refracted light, and I believe
it's sad if we, amidst the world's confusions,
don't take the time to cherish our illusions.
---
Missing Tomorrow
Oh how I miss tomorrow
when humans will at last
be human and all sorrow
of men be in the past.
There is no time to borrow;
but then again, as some
have always claimed, tomorrow
may never even come.
---
Prayer
The church bells are ringing, solemnly calling
the people to come to Mass for the masses.
The people are going, the people are list'ning,
and then they go home, child and husband and wife,
go home and continue the life they were living
as told by the priest.
One life. One god. One spouse. If I had only
the gods of Homer, the wives of King Solomon,
and with them, Almighty, the spirit I have!!!
---
Calm & Passion
Lazing under midday heavens
lay the lion, hardly breathing;
now and then his eyes would open,
and he'd yawn against the desert.
He'd watch flamingoes at the river,
and, dozing off again, awaken
to see red roses in their flower,
to hear the love song of the sparrows.
He'd watch a graceful antelope
that stops to drink, and, getting up,
he'd focus on her slender shape,
and he'd be ready for the race.
With powerful paces he'd follow her track,
and, knowing he'd get her, his victim would run,
would run for a while, but the lion would win
and finally sink his sharp teeth in her throat.
---
Welcome To Your World
Just leave this place and smile and close the gate:
there's more to life than you will ever know,
and there's an unseen spirit where you go
who's guiding you - it never is too late.
Just leave this place and smile and close the gate:
there's fairies who will dance with you and show
you all the beauties of the streams that flow
where gardens full of dreams and daisies wait.
There is a world outside for everyone:
mine is a rose bed where fresh waters run
and heaven's azure banner flies unfurled.
There is a world outside for everyone,
and I will crown with moon and stars and sun
the goddess and creator of my world!
---
Solitude
When early in the morning
the sun is shining in,
my unrequired companion
will wake me with a grin.
Wherever I am going,
wherever I may be,
my unrequired companion
will spend the day with me.
When later in the evening
I look for company,
my unrequired companion
will have a drink with me.
After the pubs are closing
I dread the night when he,
my unrequired companion,
will go to bed with me.
---
Travel Companion
We all who are hiding her corpse in the cella
are temples of secrets too sacred to tell,
and those who were born with the Grey Arabella
will die with the Grey Arabella as well.
She teaches why man won't be human nor clever,
why pleasures weren't meant for disciples of her,
why only despair will be lasting forever,
while all of us listen without demur.
She gave us a backbone, a solid patella
and a bedridden spirit with whom we must dwell,
for those who were born with the Grey Arabella
will die with the Grey Arabella as well.
Phlegmatically chairing our minds' torpid senate,
she always is with us – we still feel alone,
endure all the pains that are known to this planet
and make the world's suff'rings our very own.
There's no Before Midnight, still each Cinderella
must dance for the queens in the Ballroom of Hell,
and those who were born with the Grey Arabella
will die with the Grey Arabella as well.
---
At the Beach of Life
They say life's a beach but don't indicate
that we're on the cursed beach of Sand Creek
where some powerful scions still vindicate
their old privilege over the weak.
A safe haven protects the small coterie
where their boats of destruction are moored
whereas every conditioned votary
is soon up the creek, forced or lured.
Their collectors rob, vis est veritas,
all the commoners, smiling with glee,
and deliver the loot to the heritors
who insist that's the way it must be.
And to justify manufacturing
arms we pay for, they burn and maraud
land by land for a profit while lecturing
the rest on the need to applaud.
If you see through their greed and their vanity,
why not join us until we expire
in our little gazebo of sanity
and sip tea while the beach is on fire.
---
Compassion
They didn't mention it. We talked about
football and politics and Cheers before
Diane had left, and as the morning breaks
we rise, and I farewell them at the door.
'What are friends for?' they tell me as I thank
them for their kindness and their company.
Nobody said a word about it, still
they let me know how much they feel for me.
---
Angst
A roof above me, I await the morrow,
have clothes and food - I have a happy lot,
but pensively I hang my head in sorrow,
aware that there are billions who have not;
A malady affecting fools and sages,
and through my angst my pleasures must decline:
I've perished with the world for many ages,
I've tried to bear a weight that is not mine.
I should embrace my fate, be glad and merry,
just like the others turn my heart to stone
in Lethe, but like Atlas I must carry
the burden of my weltschmerz all alone.
The suff'rings of this planet are too many,
too heavy for a single man to bear:
I wish like those around me, blind and canny,
I could refuse to carry and to care.
Though men have changed, mankind has never altered
and swells my burden while I'm on the road.
The shoulders of my heart are weak; I faltered,
and once again I lift my heavy load.
---
The Tyre Change
I'm sitting by the roadside.
The driver is changing the tyre.
I don't want to be where I came from.
I don't want to be where I'm going to.
Why am I watching the tyre change
impatiently?
(Translation of Bertolt Brecht's Der Radwechsel)
---
Blessings
Am I not blessed that I can see
the wealth and beauty of this world?
Am I not blessed that I can walk
through Nature to be one with her?
Am I not blessed that I can write
to share my feelings and my thoughts?
With all these blessings I still muse:
why is it that I feel so cursed?
---
Changeability
The drizzle stopped, and soon I noticed that
the sun broke through the clouds; I had to take
my jacket off since I began to sweat,
joyfully sighing, 'Summer is awake!'
But heaven's floodgates soon burst open and
drenched me in seconds as an arctic wind
arose out of the blue and numbed my hand;
I rued that I had not postponed my stint.
The sun returned when I was frozen stiff
and dried my clothes in minutes to display
his radioactive powers, just as if
to say, 'What happened while I was away?'
This day seems, as the skies again turn duller,
a time-lapse film of life in technicolour.
---
Away
Away I must be from the mainland,
away to the turbulent sea,
for Fame rewards average people,
and Love's too expensive for me.
Away I shall sail from conversion,
get rid of the gag and the gyve:
away from the docks of existence,
away from the harbour of Life!
Away, away from this country,
away from the planet of speed,
away with the speediest vessel
from the place which has naught that I need!
---
The River
The river is me as he springs from the hill
and leaps through the valley in bends wild and still,
caressing the meadows with life-giving touch,
embracing the woods with his nourishing clutch.
The river is me as he rolls through the plains
in quest of the ocean, and nothing restrains
his powerful current, his light-hearted soul:
he knows of no aim but to roll, but to roll.
The river is me as he kisses the sea;
there, where he is strongest, he ceases to be.
He flows through this world, yet his waters run free:
as I am the river, the river is me.
---
Destiny
One thing leads to another, and
we cannot change the plot;
some of the things that we have planned
work out while some do not.
We may lie back, awaiting Fate,
or follow an idea;
it's not too early nor too late
for all things that appear.
Whatever comes, it's good to know
I have to seize the day,
to know, wherever I may go:
there's been no other way!
---
The Homely Traveller
I cannot leave the places
I love, and I can't stay,
I live with untied laces,
remain and walk away.
To know a place a life is not sufficient,
to see them all an aeon not enough,
and if I had the lantern of Aladdin
I'd be in every place at every time.
Unless the skies unravel
the secrets of the day:
forever I will travel,
forever I will stay.
---
Wrung Hearts
Wrung hearts are passed from hand to hand
which drain their energy,
and every time they are convinced
they found their destiny.
Wrung hearts pray for the morning dew,
and full of hope they greet
their temptress; then, too dry for tears,
they muse on their defeat.
Wrung hearts will not believe in man
nor in a god above,
but still they trust in every vow
of everlasting love.
Wrung hearts seem sapless like a rose
that withers on the stem,
but there will always be some life
you can squeeze out of them!
---
Evening Prayer
Shut the day! I'll have no more;
lest the dragons should return
and their sacrifices burn -
shut the day, I'll have no more!
Call the night! My only friend
waited for the sun to drown
in the ocean of my frown -
call the night, my only friend!
Leave the dreams! For they are mine;
I will close my eyes and live
what the day refused to give -
leave the dreams, for they are mine!
---
I Haven't Always Been
I haven't always been a virgin,
no matter what the others say:
I've been a goat as well, and searching
for liberty I lost my way.
And though the others spread those rumours:
I haven't always been this young,
for I have suffered global tumours,
and in my mouth I felt Death's tongue.
I haven't always been a minor
with naught to say and naught to touch:
I've always been my fate's designer
and delegated far too much!
---
Treasure Hunt
Golden coaches of the High King,
chasing fast through snow and frost,
pulled by hundred wingèd horses,
cannot bring what I have lost.
Western winds with breaths of iron,
of their gentleness bereft,
wildly blowing through the country,
cannot bring what I have left.
Spirits of the past and future
who can visit every spot
that there ever was or will be
cannot bring what I forgot.
---
Clenched Hearts
Clenched hearts can not be seen but in the eye
of those who wouldn't hurt a living creature,
those who are dwelling under the illusion
no human soul could be completely evil,
that there is something true in every claim
and every accusation that is made
and that the other ones are always right.
Bullied by classmates, teachers, priests and parents
they grow to be calm pleasers with clenched hearts -
clenched hearts, anxious to strike a fatal blow
but too afraid that they might miss their aim.
They walk the streets like everybody else;
but watch them closer and you'll realise
they're shyly making way for all the others,
and they apologise to anyone who
bumps into them. They patiently await
the prize Life has to offer for the righteous,
but when the cows come home they will discover
they didn't even make it to the shortlist.
That day they will decide to change their life...
---
The Plant of Progress
There are seeds in the winds of the planet
of a plant that could alter its face,
but on reaching their marked destination
very few find a suitable place.
Some are crushed on the spot where they landed
till the life disappears from the germs,
and instead of providing a harvest
they provide a dessert for the worms.
Some are starting to grow in a garden
or a field with the soil that they need,
just to find themselves extirpated
by the ones who consider them weed.
Some are trimmed on a regular basis,
and they're questioned, 'Why can't you just grow
like the other sweet flowers around you,
with some beautiful petals to show?'
While they may be abhorred or accepted,
they are never expected to thrive:
they're regarded as plants with no purpose
which rely on largesse to survive.
One or two in a thousand may manage
to grow free into autism trees,
standing tall in the middle of nowhere
as convention's revered escapees.
Each of these bears a fruit which is different
from all fruits that have yet been defined,
and their boughs dangle heavy and laden
as they benefit all of mankind.
---
The Manual
The curious young man was standing
at Nature's workbench, made of pine,
as she described her many duties
and showed him an assembly line.
'This is where I, without cessation,
produce the standard human brain
which I deliver with the body
and a short manual to explain.
'But one in ten must be created
by hand, and that's when I explore
new ways and try out new connections
that I have never tried before.
'These function on a different level,
the brains with individual sights,
producing scientists and artists
and those who fight for human rights.'
'Is there a manual for these then?'
the man enquired about her craft.
'A manual?' Nature snorted roughly
and laughed and laughed and laughed and laughed.
---
The Chipmunk's Rest
In the dead of the year with its dim sombre skies
that clothe us with blankets of wind laced with rain
we cling to the cold barren earth that denies
us the bounties it rendered before on the plain.
And the sun veils itself in a tenebrous robe;
he allows his disciples no glimpse nor a glance
and refuses to generate life on this globe,
and everything happens tomorrow, perchance.
And I'm like the chipmunk who hides underground
where he fears not the frost nor the eagle's dark wing,
where he lies for the winter and cannot be found,
and nobody knows if he'll rise in the spring.
---
Memorabilia
Forget not the moments of passion,
the hunger that once has been stilled,
fulfilling your lovers' obsession
to have your obsession fulfilled.
Forget not the moments of pleasure,
the moon and the boardwalk above,
the moments when Time had no measure,
forget not the moments of love.
Forget not the moments of thunder,
the sound of the bellowing seas,
forget not the moments of wonder,
forget not the moments of peace.
Forget not the days of excitement,
the beauty and danger of Troy,
preceding Elation's indictment -
forget not the moments of joy!
And now, in my spirit's December,
I think of those moments of yore,
for all I can do is remember
and hope that there might be some more.
---
Dreams of Awakening (DOA)
In dreams of my awakening
I hear the mission bell
of Love and Freedom; with its ring
it breaks the torpid spell.
I taste the sun, I smell the rain
after the clouds have passed:
I feel the joy, I feel the pain,
I feel myself at last!
The Bird of Promise starts to sing,
rewarding thus my strife:
in dreams of my awakening
I even get a life!
I watch the Rose of Heaven grow
and bloom for me, but when
I come to life, a voice says No,
and I wake up again.
---
Xiphias sylvanus
He was a swordfish who lived in the wood -
he couldn't sing or hunt mice
or do anything that the others could,
but with his long snout he could slice
the others' portions; each evening they stood
around him and shared which was nice.
And oft he would talk of this magical place
where he just like all others could be,
and where he'd be moving with ease and with grace
in his element, cheerful and free;
the others would sneer, or they'd tell him to face
the stern reality.
And oft he would stand on the cliffs at the shore,
and he'd watch the wide ocean and pause,
but his sylvan friends would know the score
and hold him back with their claws,
'Don't jump! There's so much worth living for,'
but they'd never reveal what it was.
---
The Account
He crumpled up his statement. For years on end
he's lived on just the bare necessities
and put each penny he could spare
into his bank account, providing for
the future; now he has to realise
his waste of time and money - the charges are
considerably higher than
the meagre interest, and the piggy bank
would certainly have left him a richer man.
And his account with Life? He rises from his chair,
restlessly walking up and down.
There were some bonfires and some apple blossoms,
some roses (were there roses?) and the sea,
some smiles and some shy rays of sunshine
that lit dark nights and longer winters...
But are those sweets Existence has to offer
worth all the input and the trouble?
He lingers at the open window and decides
to close his account.
---
The Rain
The rain knocks firmly on the cobblestones,
drowns out the echo of the horses' hooves
and floods a badger's doorway who postpones
his evening hunt until the sky improves.
At dawn the sun again will show his face
and set his creatures' worried minds at ease
for just a little while, but there's a place
in which the torrent rain will never cease.
---
We Blackboys
Waiting for the lightning,
without a blossom or a leaf,
the blackboy stands: a tree among the trees.
He seems to bear no life,
nor any beauty may he call his own;
no food to squirrels and no home for birds,
not seen by men - he stands just there,
waiting for the lightning.
And thunder comes and storm and lightning,
and soon the world around him is on fire -
the colours of the flowers fade away,
the flames destroy the beauties of the forest,
the trunks of mighty trees are burnt to ashes:
the wood is gone, deserted lies the land.
But now the blackboy stands amidst the desert
like God once stood amidst the chaos,
in fullest bloom, in most outstanding beauty,
in gracefulness and glory never known,
and spreads his seeds among the others' ashes.
---
Finale
And has this planet room for two?
We watch the darkness as it glows;
in everything we say or do
we see the velvet curtain close.
And yet, and yet we must abide
within our world, just you and me:
we must be moving with the tide
of a perennial galaxy.
Only one of the prophecies
can ever be fulfilled, and so
the birds are singing in the trees,
and one of us will have to go.
---
Civilisation
I'd love to live in a civilised country
which doesn't enslave its male citizens in an army,
which doesn't 'defend' itself outside its borders,
which doesn't discriminate, not even against men,
which doesn't place their government's interests over the lives of civilians,
which doesn't allow its mothers to kill their children,
which doesn't dispose of its residents, however beastly their crimes:
a country in which man comes first.
But this is not the time for civilisation.
Nor the place.
Nor the planet.
---
Turns
Seven times out of ten when I am hiking
I miss a turn and keep on walking, long
before I ever notice I am wrong,
but deem the random outcome just as striking.
And at my unintended new location
I'd marvel at the scenery I found
by getting lost but wonder all around
what it would be like at my destination.
I have matured (at least I have grown older),
appreciating where I am today;
sometimes I turn around to view the way
I've come so far with the eye of the beholder.
But oftentimes I pause, reflect and yearn
to know how often I have missed a turn
in life.
---
Heaven
If heaven's the place of ultimate bliss
which no unpleasantness fogs,
my heaven would be like the world as it is,
but a world without suff'ring and dogs.
---
Status Update
'And are you happy now?' they asked me after
I had embraced my self, and I replied,
taking a silent moment of reflection,
'Not really happy, but I'm satisfied.'
For even if I had all things I fancy
and all the knowledge of the world belonged
to me, how could I possibly be happy
as long as anywhere a child is wronged?
---
Reminder
On this brand new day arrives
the remainder of our lives.
---
© Frank L. Ludwig